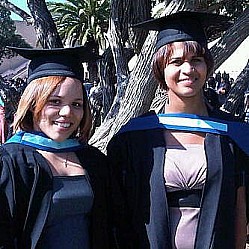 Thursday 19th April 2012
Lizle Du Preez and Laverne Louis brought the number of persons who played in the band, and went on to obtain qualifications in engineering to six yesterday. Lizle graduated at NMMU with a National Diploma in Civil Engineering, and Laverne with a National Diploma in Industrial Engineering. The other four all qualified in the field of Electrical Engineering. The number of enigineering professionals now run second to the number of music professionals produced by the band.


Dimitri Veldkornet is graduating at NMMU with an MSc in Biology today.


Romano Vereen graduated with a B.Com (Business Management) degree.


Whilst Rhiyaad Mohamed did not hand in his thesis towards an MSc degree at NMMU timeously for this year's graduation ceremony, he has been admitted to read towards a PhD at UCT this year.


As a band we take pride in these achievements, which show the value of young children growing up in a disciplined and dedicated musical environment. We have always contended that the lessons learnt in the band are universal, and will generally lead to success if applied in other spheres of life.