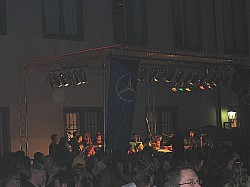 The beauty about operating as a church band is that we constantly have to make something out of nothing. There are no pre-entry tests, and no one gets turned away for the lack of talent or ability. Sadly though, we often have to turn children away for a lack of available instruments. Even when children are placed in one of our bands, including our senior bands, they are not really up to standard. All that is required is the desire to play and the will to do what is necessary to achieve that goal. Another important thing about us is that we serve in the truest sense, and anyone wanting to join us must be prepared to serve. If these qualities which we require and nurture, are applied to other areas of life, which we encourage, then the child will have a bright future. Even the weakest child will change its attitude when its efforts are rewarded with good results. Our greatest achievement is therefore in the field of empowering our children. A good example would be our 1994 tour group to Germany. Out of the 24 players, with an average age of under 17 years, 6 went on to pursue careers in music. The rest of the players went into a wide range of professions and occupations including engineering, analytical chemistry, nursing, technicians, business, secretaries, hairdressing, human resources, aircraft radiotrician, estates administrator etc. One even studied in the field of ministry after attaining a business science degree.


Our tours to Germany in 1994, to Germany and Holland in 2004, and to the USA in 2009 were major highlights in our history, both on a musical and personal level. We definitely returned from those tours with greater self belief on all levels. It is ironic that we had to travel so far to get a critique on the standard of our performance. To view to view a German newspaper critique, click here. To view an English translation click here.


In 1997 our brass ensemble entered the Open Category of the ABSA Youth Music Competition arranged by Edu-College, with a view to showing that we could play with the leading ensembles in Port Elizabeth. The truth is that we sought to impress the audience, but we did better and impressed the adjudicators as well. They placed us as runners-up to the UPE Brass Quintet. This was another major achievement for our youthful ensemble.


Playing together with more than 8000 brass players at the Landesposaunentag in Ulm, Germany may not be considered an achievement, but it was something special. So too was playing an open air concert at the Heinerfest in Darmstadt, Germany in a cold drizzle with a packed audience enjoying our music and ignoring the inclement weather. Similarly we experienced something special locally in The Centenary Hall, New Brighton in 1996, when we accompanied a huge massed choir, at a choir festival, with The Hallelujah Chorus from The Messiah.


A very special achievement was the renovation of four classrooms in an old church school to create a meeting place and rehearsal room for us, together with teaching studios and a workshop for instrument repairs. This was a costly project for which we fundraised ourselves. Some assistance was given by Clifford Cunningham, a member of our congregation. The greatest sense of achievement however comes from the fact that we supplied the labour ourselves with the help of two members of our congregation, Alfred and Ashley Le Roux who offerred their services on a voluntary basis.


In 2004 we released a CD, Salem Moravian Bands - Live in Germany, which was compiled from recordings of two concerts during our tour in Germany.


In 2004 seven of our members, Jill Evertse, Clint Hendricks, Shani Johnson, Lance Wilson, Razell Mohamed, Lauren Evertse and Lloyd Hitzeroth, formed a woodwind ensemble and entered a local music competition arranged for school children by the South African Music Teachers Association. This ensemble was placed 2nd in the competition.


In 2005 we entered a woodwind quintet and a brass quintet in the same competition. This time our brass quintet won the competition. The winning quintet comprised of Laverne Louis, Opoku Aboagye, Antonio Lottering, Justin Barlow and Brenton Oliver.


The Moravian Music Foundation, in the USA, is currently preparing to release a DVD of a concert which we recorded in Advent Moravian Church in Bethlehem, Pennsylvania.