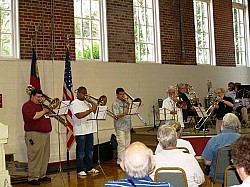 This is the final day of the festival. There is still some work to be done on the cd sleeves. Most of this could be done between breakfast and the devotions which started an hour later than normal. After devotions we watched a powerpoint display of photographs taken by the official festival photogragher. These photos will in due course be displayed on the Moravian Music Festival website. This website can be accessed through a link on our website. It was then announced that Becky Owens, the director of music at Central Moravian Church in Bethlehem, would chair the committee for the next festival to be held in Bethlehem in 2013. The two of us later discussed possible dates to ensure that their festival and the Unity Band Festival, which is also now being mooted for 2013 in Germany, do not clash.


The final concert which is like the postlude of the festival, was that of the concert of the trombone choir. It is amazing how an ensemble can evolve in the short space of a few days. The trombone choir playing the concert, sounded a lot better than the one we first heard on Monday. This is normal, and I experience it with our own band from time to time, but it remains amazing. In fact, it is one of the joys of working in a creative art form. Credit must be given to Donna Rothrock, the director, for this. The programme was one of great variety, probably designed to showoff the versitality of the trombome. Styles range from classic brass, to ragtime and jazz, and other in between. The concert fittingly ended with the Canadian Brass arrangement of "The Lord bless and keep you", and so ended an unforgettable festival.


During lunch, Fadiela told me that Richard Scranton, who he had contacted some months ago, advised her that he had bought her a ticket to Orlando, and that she was to leave after lunch. Her plan had been to fly to Orlando on Sunday.As we spoke he was busy arranging accommodation for her, and so we all took leave of her durimg lunch.


The week's schedule was tight and demanding, and called for a lot of discipline especially from those involved in more than one ensemble, but it was undoubtedly this discipline and work ethic which produced evening concerts of such high quality. We congratulate the festival committee and all the participants on a wonderful festival. Did I ever mention that the food service throughout the week was excellent? A final thought is on an eccumenical note. Here we had a big Moravian music festival taking place at a Catholic institution, Belmont Abbey College, with the main concert being held in the Davidson Presbyterian Church. How good is that for the Christian Church?


By 1 pm virtually everyone had left the campus, and we were alone with a few organisers. There was still some last minute shopping to be done, and we also had to buy our own supper. We received a donation towards our supper from either the festival committee ot one of its members. We also received an amazing offer of a motor vehicle to use from a lady who was assigned to drive us to the airport. We only met this lady while waiting for the bus to take us to Davidson on Friday. Apart from having to drive us to the airport, this lady had no connection with the festival, and it appears that she was only on the campus on Friday because she mistakenly believed that she also had to drive to Davidson. She made us this offer at a first meeting which lasted less than 10 minutes, and today she was true to her word. All that was required of us was put gas in the vehicle according to our needs. For those who do not believe in miracles, this tour was planned, and the plans implemented in the firm believe that God would make things happen for us. This belief was reinforced by the text for the year 2009 given in the South African version of the Moravian Daily Texts, "What is humanly impossible is possible for God." Luke 18:27. Our band for this tour has a facination for one of the pieces we played, "Every Morning New" which is based on a verse from the book of Lamentations. This verse is quoted in a preface to the American version of the Moravian Daily Texts, "The steadfast love of the Lord never ceases, his mercies never come to an end; they are new every morning." Lamentations 3:22,23. And the name of the lady? Delillah. A name straight out of the bible. "What a co-incidence", some will say, or even "so what", but for us Delillah was a God sent, or as others might put it, she was an angel.


We knew what we wanted for supper, but getting wrong directions did not help our cause. We did eventually get proper directions at a gas station, and so were able to get ourselves a good supper. Thereafter it was packing late into the night for our trek home.